This 14-year-old young girl makes us all in awe by her display of extra fine skills through distinguished handwriting in her school work!
This is with her perfect calligraphy that beats computer fonts.
Prakriti Malla, a 14-year-old young girl from Nepal has the most beautiful handwriting in the world.
She was away from the limelight until her writing got viral on social media. It is also a beauty of social media that the good things get viral and reach to almost everyone.
Prakriti Malla from Dhankuta is a student in Sainik Awasiya Mahavidyalaya from Nepal.
Also, Malla's essay on the essentials of handwriting for children has gained worldwide attention with her amazing calligraphy skills.
Malla was also even praised by Dr. Kirstin Ferguson from Queensland, Australia for her super-neat skills through Twitter!Dr Kirstin Ferguson✔@kirstinferguson
This is the handwriting of Nepalese Yr 8 student Prakriti Malla which was recognised as the most beautiful handwriting in the world #writing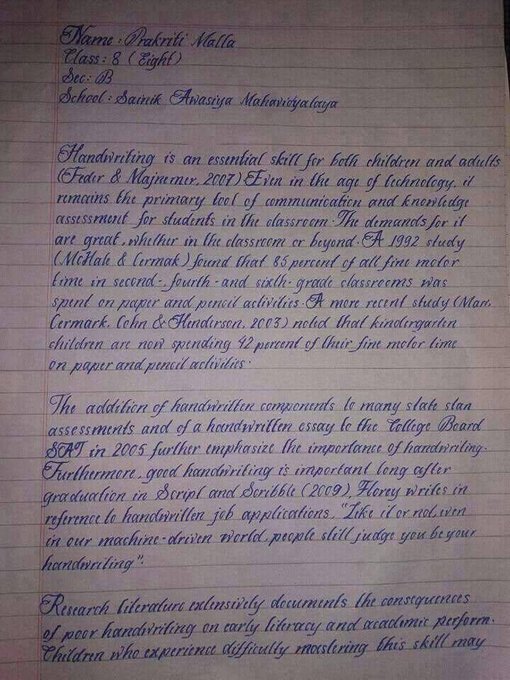 2,400Twitter Ads info and privacy1,135 people are talking about this
Her first-grade writing has also attracted attention from her government and is recognized as one of the students with most beautiful handwriting.
In Malla's paper, she also wrote, "A 1992 study (McHale and Cermak) found that 85 percent of all fine motor time in second–, fourth–, and sixth-grade classrooms was spent on paper and pencil activities. A more recent study (Mar., Cermak, Cohn & Henderson, 2003) noted that kindergarten children are now spending 42 percent of their fine motor time on paper and pencil activities."
Now, if a child an 8th grader could write this well, it does encourage the rest of us to continue with the pen-and-paper method, even though it may just be scribble notes.
Beautiful Handwriting Makes Good Impact
Her first-grade writing has also attracted attention from her government and is recognized as one of the students with the most beautiful handwriting.
Almost everyone has spent countless hours to improve the handwriting in the earlier school days. Some of them got beautiful handwriting, while there are many who can't write decently. Hence, nowadays the students are more focused on cursive writing. Moreover, writing contests now trending.
Like A Computer Font Handwriting
Studying in 8th class, Prakriti Malla got the handwriting that can allure anyone. Her writing seems like a beautiful designer font of the computer. The space between the letters is uniform. Furthermore, she has introduced a new level of calligraphy. The pleasing figures are by her hand. Hence, her writing is the best handwriting in Nepal.
An Inspiration
The student of the Sainik Awasiya Mahavidyalaya, Prakriti Malla received awards from the Nepali Armed Forces for her remarkable handwriting. Now she is popular in the entire world and people are pleased to read her writing.
As encouragement, here are a few comments about handwriting that we have selected from a BBC post:
I also hand-write as a matter of course, many comments "how nice to receive a written letter". In France, a handwritten letter is the expected form of formal communication. – Tom Davies, Faucigny ,Bonneville, France
She is about to write a "thank you" letter to my host. I will be using a fountain pen. It is also easy to bang out an e-mail, but a handwritten note on headed paper conveys real gratitude. – Patrick Farrelly, Saunton
Kids in primary schools in Japan spend a lesson or two a week learning "the way of writing", using thick calligraphy brushes to write kanji characters. It's an art form and takes great skill. At the start of a new year, many kids gather in the assembly hall and layout long sheets of paper, prep their brushes and write something, usually with four kanji, that means something to them personally about how they'd like the next year to pan out. Writing here has deep cultural roots. – Dan in Japan, Japan
What can you say about her writing? Share in the comments. And tag your friends who got good handwriting.